Testimonial
I just received this email and picture from my Customer Dave: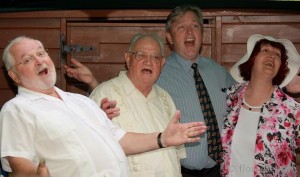 " Hi Alexis, Did I send you this before ? One of the best we've had taken ! Are we having fun yet ? Damn tootin' !
Notice John and I are wearing our Guayaberas. We were singing for a wedding reception and had to look our best !!!! "
I Love their performances proving the talent of these Harmonizers.
Sure they look fabulous on their guayaberas, Dave and John are wearing our most popular embroidered Guayabera shirt. You can find this shirt by clicking here
Videos of some of their performances: