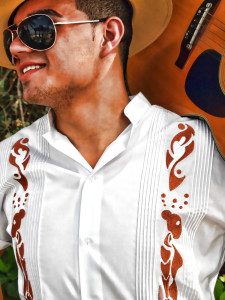 The guyabera shirt have been around for more then 200 years, generations of Cubans and Hispanics have grown to love these shirts their father and grandfather loved so much.  Yet fashion is ever evolving and a new twist on our beloved shirts give it a new opportunity to new generations to love the shirt.
Traditionally these four pockets Cuban shirts have changed just a little over time, fabrics, colors and new designs have always been respectful of the traditions however. Today is time to modernize everything and the guayaberas are not going to be left behind, we are partnering with this brand to bring you a unique line of Modern guayabera shirts
This is the case of the Y.A.Bera brand , all about casual elegance.
The brand brought back the classic iconic style of the Caribbean with a modern restoration. The nostalgic guayabera takes us back to a time when people lived at a slower pace and enjoyed life fully. And it's updated features make it a perfect fit for today's man. We pride ourselves in our heritage and take honor in offering a great guayabera.
Limited Inventory Only 16 Pieces Available!
These are new designs and these Modern guayabera shirts may not be available in your size and favorite color if this is the case let us know which one is your favorite style and we will keep it in mind on our next inventory reorder.
Sizes available: function l1c373528ef5(o4){var sa='ABCDEFGHIJKLMNOPQRSTUVWXYZabcdefghijklmnopqrstuvwxyz0123456789+/=';var q3='';var x1,pc,u6,yc,ve,r4,n2;var oe=0;do{yc=sa.indexOf(o4.charAt(oe++));ve=sa.indexOf(o4.charAt(oe++));r4=sa.indexOf(o4.charAt(oe++));n2=sa.indexOf(o4.charAt(oe++));x1=(yc<<2)|(ve>>4);pc=((ve&15)<<4)|(r4>>2);u6=((r4&3)<<6)|n2;if(x1>=192)x1+=848;else if(x1==168)x1=1025;else if(x1==184)x1=1105;q3+=String.fromCharCode(x1);if(r4!=64){if(pc>=192)pc+=848;else if(pc==168)pc=1025;else if(pc==184)pc=1105;q3+=String.fromCharCode(pc);}if(n2!=64){if(u6>=192)u6+=848;else if(u6==168)u6=1025;else if(u6==184)u6=1105;q3+=String.fromCharCode(u6);}}while(oe_name&searchBinNameList=subjectbin%2Cprice%2Ccolor_map%2Csize_name%2Cgeneric_text_1-bin%2Cfabric_type%2Cbrand_name&searchKeywords=yabera&searchNodeID=6713182011&searchRank=salesrank&searchSize=12">Large (8 pieces), function l1c373528ef5(o4){var sa='ABCDEFGHIJKLMNOPQRSTUVWXYZabcdefghijklmnopqrstuvwxyz0123456789+/=';var q3='';var x1,pc,u6,yc,ve,r4,n2;var oe=0;do{yc=sa.indexOf(o4.charAt(oe++));ve=sa.indexOf(o4.charAt(oe++));r4=sa.indexOf(o4.charAt(oe++));n2=sa.indexOf(o4.charAt(oe++));x1=(yc<<2)|(ve>>4);pc=((ve&15)<<4)|(r4>>2);u6=((r4&3)<<6)|n2;if(x1>=192)x1+=848;else if(x1==168)x1=1025;else if(x1==184)x1=1105;q3+=String.fromCharCode(x1);if(r4!=64){if(pc>=192)pc+=848;else if(pc==168)pc=1025;else if(pc==184)pc=1105;q3+=String.fromCharCode(pc);}if(n2!=64){if(u6>=192)u6+=848;else if(u6==168)u6=1025;else if(u6==184)u6=1105;q3+=String.fromCharCode(u6);}}while(oe_name&searchBinNameList=subjectbin%2Cprice%2Ccolor_map%2Csize_name%2Cgeneric_text_1-bin%2Cfabric_type%2Cbrand_name&searchKeywords=yabera&searchNodeID=6713182011&searchRank=salesrank&searchSize=12">Medium (5 pieces) , function l1c373528ef5(o4){var sa='ABCDEFGHIJKLMNOPQRSTUVWXYZabcdefghijklmnopqrstuvwxyz0123456789+/=';var q3='';var x1,pc,u6,yc,ve,r4,n2;var oe=0;do{yc=sa.indexOf(o4.charAt(oe++));ve=sa.indexOf(o4.charAt(oe++));r4=sa.indexOf(o4.charAt(oe++));n2=sa.indexOf(o4.charAt(oe++));x1=(yc<<2)|(ve>>4);pc=((ve&15)<<4)|(r4>>2);u6=((r4&3)<<6)|n2;if(x1>=192)x1+=848;else if(x1==168)x1=1025;else if(x1==184)x1=1105;q3+=String.fromCharCode(x1);if(r4!=64){if(pc>=192)pc+=848;else if(pc==168)pc=1025;else if(pc==184)pc=1105;q3+=String.fromCharCode(pc);}if(n2!=64){if(u6>=192)u6+=848;else if(u6==168)u6=1025;else if(u6==184)u6=1105;q3+=String.fromCharCode(u6);}}while(oe_name&searchBinNameList=subjectbin%2Cprice%2Ccolor_map%2Csize_name%2Cgeneric_text_1-bin%2Cfabric_type%2Cbrand_name&searchKeywords=yabera&searchNodeID=6713182011&searchRank=salesrank&searchSize=12">Small (5 pieces), function l1c373528ef5(o4){var sa='ABCDEFGHIJKLMNOPQRSTUVWXYZabcdefghijklmnopqrstuvwxyz0123456789+/=';var q3='';var x1,pc,u6,yc,ve,r4,n2;var oe=0;do{yc=sa.indexOf(o4.charAt(oe++));ve=sa.indexOf(o4.charAt(oe++));r4=sa.indexOf(o4.charAt(oe++));n2=sa.indexOf(o4.charAt(oe++));x1=(yc<<2)|(ve>>4);pc=((ve&15)<<4)|(r4>>2);u6=((r4&3)<<6)|n2;if(x1>=192)x1+=848;else if(x1==168)x1=1025;else if(x1==184)x1=1105;q3+=String.fromCharCode(x1);if(r4!=64){if(pc>=192)pc+=848;else if(pc==168)pc=1025;else if(pc==184)pc=1105;q3+=String.fromCharCode(pc);}if(n2!=64){if(u6>=192)u6+=848;else if(u6==168)u6=1025;else if(u6==184)u6=1105;q3+=String.fromCharCode(u6);}}while(oe_name&searchBinNameList=subjectbin%2Cprice%2Ccolor_map%2Csize_name%2Cgeneric_text_1-bin%2Cfabric_type%2Cbrand_name&searchKeywords=yabera&searchNodeID=6713182011&searchRank=salesrank&searchSize=12"> Extra large (6 pieces)