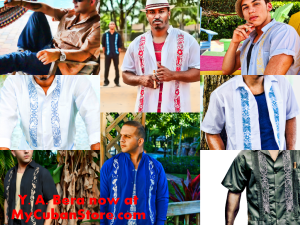 New style guayaberas
You love guayaberas and now they are better then ever. The guayabera shirts have been around for 200 years but this time they are getting a face lift with the Yabera brand of shirts. This week we are promoting this great brand offering you discounts on all their new style guayaberas. Enjoy these easy to wear and stylish tropical guayabera shirts.
What is a Yabera shirt?
Y.A.Bera Clothing is all about casual elegance. We brought back the classic iconic style of the Caribbean with a modern twist. The nostalgic guayabera takes us back to a time when people lived at a slower pace and enjoyed life fully. And it's updated features make it a perfect fit for today's man. We pride ourselves in our heritage and take honor in offering a great new style guayaberas.
Which one would you like?
Bellow you will find our 5 most popular styles, which one would you like? Let us know!
Y.A.Bera Men's Collared Shirt w/ Tails & Tentacles Artwork – Green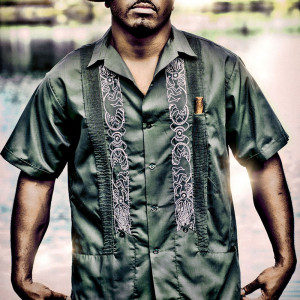 This new style Guayabera shirt provides the casual look of a guayabera with modern color combinations and artwork. It is a hunter green cotton blend short sleeve shirt with white embroidery.
The cotton blend is a lightweight cloth with solid construction. The embroidery is a piece of artwork from a UK based artist. The artwork has been given the name "Tails & Tentacles"and grasps the attention of anyone looking.  see more...
This shirt provides the casual elegance of a guayabera with modern color combinations and artwork. It is a light blue Linen blend long sleeve shirt with black embroidery.
The linen blend is very classy and is in a color that speaks to anyone. The black embroidery is modern artwork from a young Venezuelan based artist. The artwork has been given the name "The Clouds Part" and attracts all sorts of attention. see more…