Looking for a Pure White guayabera shirt or white guayaberas.
Throughout the years I had many customers looking for the traditional pure white guayabera shirt.
Why white you may think? The Guayaberas are known for their comfort and their freshness in the tropical climates like Cuba or the Caribbean. Traditionally the guayabera shirts are made of linen and what better color to keep the shirt fresh than white? The white color guayabera or any other light colored shirt will reflect the light better than any other darker shirts.
When looking for a White guayabera shirt you must consider where you intend to use this shirt? If you want to use the shirt as a wedding shirt in a beach wedding white is the perfect color for you and the 100% linen fabric is the best fabric for this setting, the linen shirts are also recommended if you want to wear the shirt in any official meeting or event.
For those with a more practical use in mind should consider the shirts in 100% cotton or Polycotton blends. The cotton guayabera shirts are great for traveling because they will normally are easy to care for than the linen shirts.
Here is a selection of guayabera shirt we offer at mycubanstore.com in white.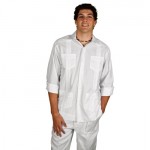 White Poly Cotton Guayabera

White Guayabera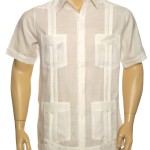 White Guayabera

White Guayabera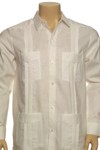 White Cuban Guayabera

White Cuban Guayabera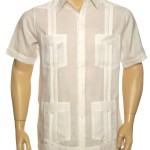 Irish Linen Guayabera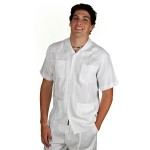 Short Sleeve White Guayabera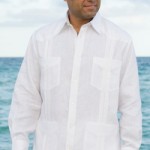 White Guayabera Long sleeve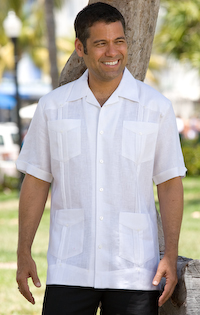 Short Sleeve White guayabera
Click here to find these and all products in white at mycubanstore.com