In December 2010 I visited Cuba with my wife and kids. We were really exited to visit our family again. We had visited in December 2009 but left with a feeling we need it to spend more time with them. After so many years apart 7 days the first time was not enough when my immediate family is composed of well over 70 people.
I had my Cuban passport ready from the year before. I'm a naturalized American citizen but Cuba requires me to have a Cuban passport because I left Cuba after 1971, which by the way it's really expensive.
My wife left Cuba in 1970 so can travel with her American password with a special cuban permit. These are regulations from Cuba not the US. We are visiting our family so under the current US law we are allowed to do so. Our US born kids can travel with a turist visa issued by the travel agency.
Our tickets to Cuba were like $550 each, really expensive considering it took only 40 to 50 minutes from Miami to Havana in a modern Boeing 767 aircraft. The plane was full, I think it was approximate 200 people on that plane. They must be making a killing I told my Wife think about it 200 * $500 = $100,000.00 for a one hour trip.
Going to Cuba
This picture bellow shows you the trip track the plane took from Miami to Havana.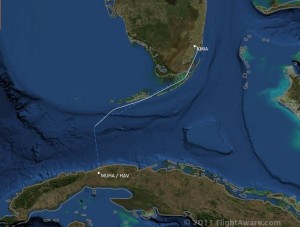 From Miami to Havana Cuba
Tip: If you want to track flights yourself visit: http://flightaware.com/live/
The trip was really nice all the flight attendants were very polite. We were offered half a sandwich an a soda. After eating my sandwich I noticed people were already seen Cuba on their window. It was a uneventful fast flight.
We arrived in Havana around 5:30 pm on on December 21, 2010.